Revolutionary and ambitious project. I was hired as Art Director and Senior UX / UI to create the whole project, just working from the idea, I had to conceptualize it, make it real and tangible. During the UX research, my goal was to find the core, seeking those spots that differentiate the project from the main competitors; in the end, the followed path, lead us to get a great interface.
Revolucionario y ambicioso proyecto. Fuí contratado como Director de Arte y Senior UX/UI para crear el proyecto de manrea integra, tan solo con una idea como base para el trabajo, hice un trabajao de conceptualización, convirtiendolo en algo real y tangible. Durante el trabajo de investigación de UX, mi objetivo fué el de econtrar el core, la diferencia, los puntos fuertes respecto la competencia, acabando con una interfaz atractiva.
Company
Que hacer en
Skills
UX/UI, Prototype, Art direction, User testing, A/B testing, Agile, HTML, SCSS, JSX, ReactJS
A New & Attractive way to find what is happening at BCN
Search by day, week or month, what is happening at Barcelona, directly from the homepage, so easy like this! With one click, you will access to all this data. Or if you prefer, just click what category you are interested and find the event and date.
Busca por dia, semana o mes todos los eventos que suceden en Barcelona, directamente desde el inicio de la web, ¡Así de fácil! Con tan solo un click accede a toda esta información. Si lo prefieres, elige una categoria y encuentra tu evento y dia.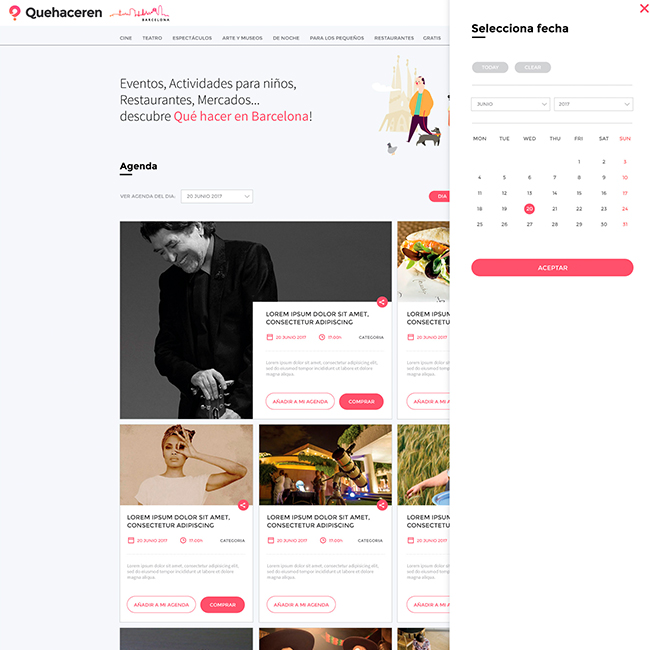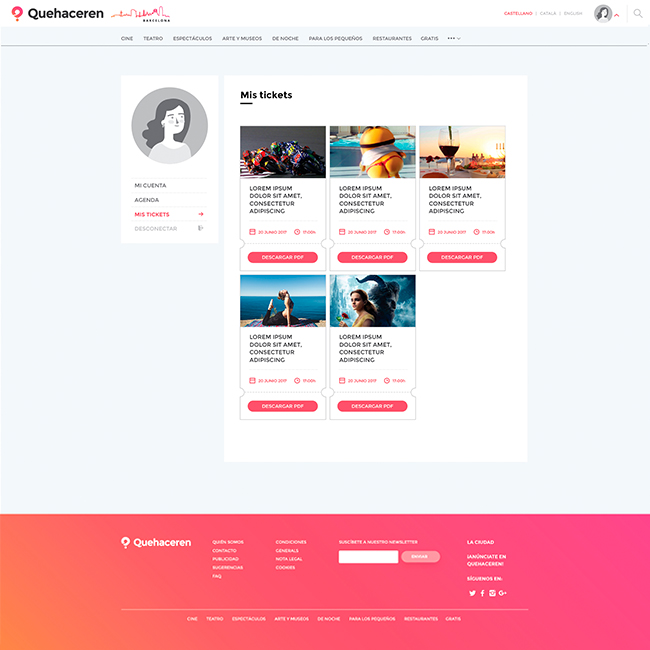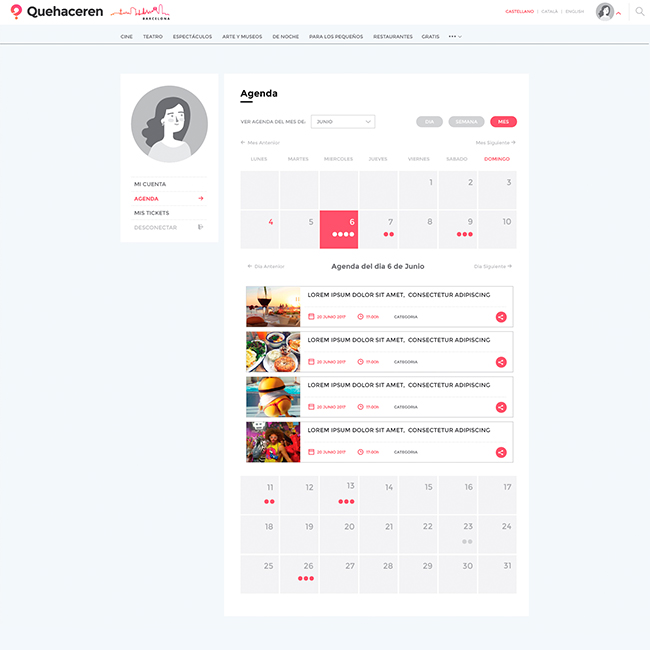 UX start from inside
Usually we just think about UX when is related to the customer, however, we should think about who is behind preparing all data. In this project, one part was the CMS, this hided project that nobody can see but was as important as the website.
Normalmente pensamos en el UX solo cuando hace relación al cliente o usuario final, no obstante es tan importante o más pensar en quién está detras preparando todos los contenidos. En este projecto también fué parte de el crear el CMS para la gestión, esa parte del projecto, oculta que nadie ve.